Balthasar Gracian (Baltasar Gracián y Morales, S.J. 8 January 1601 – 6 December 1658), was a Spanish Jesuit and baroque prose writer and philosopher.
His writings were lauded by Schopenhauer and Nietzsche. The former translated the Oráculo manual y arte de prudencia (The Art of Worldly Wisdom) into German, and considered the book "absolutely unique… a book made for constant use… a companion for life" for "those who wish to prosper in the great world." The second wrote of the Oráculo, "Europe has never produced anything finer or more complicated in matters of moral subtlety"
A translation of the Oráculo manual from the Spanish by Joseph Jacobs (London: Macmillan and Co., Limited), first published in 1892, was a huge commercial success, with many reprintings over the years. Jacobs's translation is alleged to have been read by Winston Churchill, seven years later, on the ship taking him to the Boer Wars.
In Paris, in 1924, a revision and reprint of the translation into French by Abraham-Nicolas Amelot de La Houssaie, with a preface by André Rouveyre, attracted a wide readership there, and was admired by André Gide. A new translation by Christopher Maurer (New York: Doubleday) became a national bestseller in the U.S. in 1992 , and the English edition, which sold almost 200,000 copies, was translated into Finnish, Chinese, Japanese, Portuguese, and many other languages.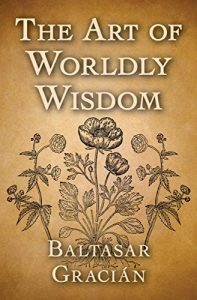 However, Baltasar Gracián is not included in the Western canon. The body of high culture literature, music, philosophy, and works of art that is highly valued in the West ignores Spanish culture at least since 1648, after the Peace of Westphalia that ended the Thirty Years's War, in the struggles and wars to end the Spanish empire.
Gracián, jointly with Quevedo, is the most representative writer of the Spanish Baroque literary style known as Conceptismo (Conceptism), of which he was the most important theoretician: his Agudeza y arte de ingenio (Wit and the Art of Inventiveness) is at once a poetic, a rhetoric and an anthology of the conceptist style.
Read online all of Baltasar Gracián's 300 aphorisms: The Art of Worldly Wisdom by Baltasar Gracian, 1647 (􏰅trans􏰆lat􏰅ed by􏰇 Christ􏰆􏰅opher Mau􏰈rer in 1992)