The Penguin Book of Spanish Verse, introduced and edited by J. M. Cohen, with plain prose translations of each poem, was published in 1988 in its third edition, in a parallel English – Spanish text edition.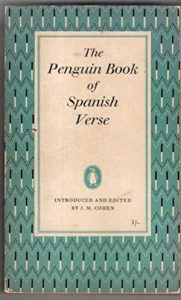 J. M. (John Michael) Cohen (5 February 1903 – 19 July 1989) was a prolific translator of European literature into English.
Born in London in 1903 and a Cambridge graduate, Cohen was the translator of many volumes for the Penguin Classics, including versions of Cervantes, Rabelais and Montaigne. For some years he assisted E. V. Rieu in editing the Penguin Classics.
He played an instrumental role in the Latin Boom of the 1960s by translating works by Jorge Luis Borges, Octavio Paz, and Carlos Fuentes, and by bringing the works of Gabriel García Márquez to the attention of his future English publisher. He also wrote a number of works of literary criticism and biography.
He collected the three books of Comic and Curious Verse and anthologies of Latin American and Cuban writing. With his son Mark Cohen he also edited the Penguin Dictionary of Quotations and the two editions of its companion Dictionary of Modern Quotations. He frequently visited Spain and made several visits to Mexico, Cuba and other Spanish American countries.
In its obituary, The Times described him as 'one of the last great English men of letters', while the Independent wrote that 'his influence will be felt for generations to come'. The Guardian declared that he "did perhaps more than anyone else in his generation to introduce British readers to the classics of world literature by making them available in good modern English translations."
The Penguin Book of Spanish Verse starts by saying 'Nobody of lyrical poetry is so seriously underestimated by British readers as the Spanish.' Later it goes 'Much of Cervantes's poetry that appears in Don Quixote and in the Exemplary Novels is mediocre. One or two light and traditional pieces, however, have charm'
These two sentences illustrate well the quality of the book: a great effort to encompass all Spanish poetry throughout ten centuries that is obviously doomed to failure. However, having such a good summary of Spanish poetry in 644 pages, in a parallel text edition, has a merit in itself.
However, the author emphatically states in his Introduction: 'The prose translations on each facing page aim at no literary merit; they are intended purely as aids to the reading of the Spanish.' And I can not agree more on this.
---
For a link to this book, please write a comment.